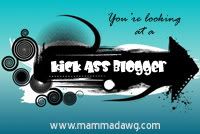 My MUCHO Admired list of Bloggers are (although I'm very fond of many of the ones who have already been awarded) listed below according to the following instructions:
1) Choose five other bloggers that you feel are "Kick Ass Bloggers"
2) Let them know that they have received an award.
3) Link back to both the person who awarded you and also to
http://www.mammadawg.com/
4) Visit the Kick Ass Bloggers HQ to sign Mr. Linky and leave a comment.
Gay Uganda
http://gayuganda.blogspot.com/
GAFCON:The Reverend Doctor Christian Troll
http://gafcon.blogspot.com/
Deserts Child/Katie Sherrod
http://wildernessgarden.blogspot.com/
Off-Topic Allowed/Lynn and Fred
http://episcoscamp.blogspot.com/
Joe.My.God.
http://joemygod.blogspot.com/
AND, I must report to all of YOU that for outstanding quality blogging and up-to-the-minute reporting, FAB design and color sense, I heartily REVALIDATE and SECOND the NOMINATION of a former WINNER:
Cany/Just Another Black Sheep
http://justanotherblacksheep.blogspot.com/
There are lots more, but, I must stop, I'm blogging as fast as I can!
Best to all, abrazos
http://www.mammadawg.com/2008/08/kick-ass-blogger-award.html