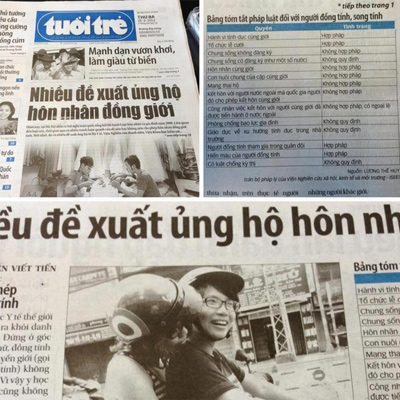 /
From the Tuoi Tre newspaper. Photo courtesy ICS
(Information Connecting and Sharing) Facebook page
Vietnam's largest news newspaper Tuoi Tre reported in its English-version website today that the country's health ministry has declared its support of same-sex marriage. The government is considering amendments to the Law on Marriage and Family which currently prohibits same-sex marriage.


The issue will be discussed at the national conference on reviewing the implementation of the Law on Marriage and Family in Hanoi on April 16 while amendments to the law will be submitted to the government in June and the National Assembly in October for consideration and approval.
(The health ministry) maintains that homosexuals, like everyone else, have the right to live, to dress, to love and to be loved, and to pursue happiness.
As citizens, homosexuals have the right to have their birth and death certified, to get married, to go to school, and other rights, as well as obligations, to the State and society.
However, because they have not yet been recognized by law, homosexuals usually hide their real identities and most of them face discrimination from their families and society. They are even forced to go into mental hospitals for treatment because their orientation is sometimes viewed as a mental disease.
After all, the Health Ministry concluded that same-sex marriage should be allowed since it is a human right.¨