¨Richard Socarides, a New York attorney who served as President Bill Clinton's senior adviser from 1993 to 1999 in a variety of senior positions including advising the president on gay and lesbian civil rights issues, speaks about his coming out experiences to his father, Dr Charles Socarides, one of the founders of conversion therapy who believed homosexuality is a mental illness and can be cured.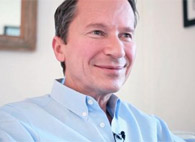 The senior Socarides, who passed away at 83 in 2005, was the author of a half-dozen books about homosexuality which includes The Overt Homosexual (Grune & Stratton, 1968) and Homosexuality: A Freedom Too Far - A Psychoanalyst Answers 1,000 Questions About Causes and Cure and the Impact of the Gay Rights Movement on American Society
He said during a filmed lecture: >Homosexuality is in fact a mental illness which has reached epidemiological proportions.
He was also an outspoken critic of the American Psychiatric Association's 1973 decision to remove homosexuality from its list of mental disorders.
In an interview published by Imfromdriftwood.com, a site that "aims to help lesbian, gay, bisexual, transgender and queer people learn more about their community," Richard, 59, recalled that his father was initially angry when he first came out to him and a few months went by before he received a 4-page letter from his father. In the letter, he apologised for getting angry, expressed his desire for his son's happiness and offered him support although he did not change what he was saying publicly about the treatment and cure of homosexuality...¨
Transcript of the interview:
Thanks to Fridae Asia, sidebar