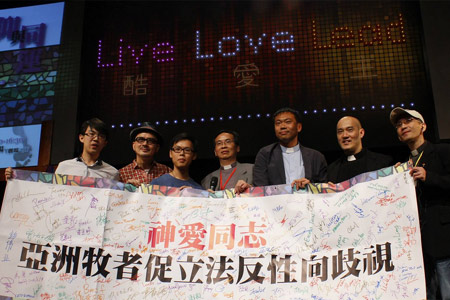 From left to right: Chan Ka Timothy (Chairman of Queer Alliance Fellowship),
Anthony Wong (pop star and Big Love Alliance member), Chun Yum
(Big Love Alliance member), Rev Silas Wong (BMCF, Hong Kong),
Rev Miak Siew (Singapore), Rev Oyoung Wen Feng (US/Malaysia),
and Rev Elias Tseng (Taiwan) at a press conference on Sunday
holding up a banner that reads: "God loves LGBTs.
Asian pastors and clergy support LGBT anti-discrimination legislation".
Photo courtesty of the BMCF.
Organised by the Blessed Minority Christian Fellowship (BMCF), an inter-denominational Christian community in Hong Kong, the 3-day Amplify Conference comprised workshops and lectures about Christian ministry as well as the role Christians and churches play within the wider LGBT community and LGBT activism. Over 300 attendees from Australia, China, Hong Kong, Indonesia, Japan, Korea, Malaysia, Philippines, Singapore, Taiwan and the United States attended the conference that ended on Sunday.
Rev Miak Siew, an openly gay pastor from Singapore's Free Community Church who conducted a workshop titled "Fuel for the journey: The Journey of Social Justice, Serving God and Others", said that the conference is very significant for the Christian LGBT community as well as the wider Christian community as a whole.
He told Fridae in an interview: "It's really amazing and encouraging to see so many people to come together for a conference like this one. It's the first few steps to healing and reconciling our faith and sexuality."
He added that many who attended the conference are in leadership positions and are well-positioned to affect change within their communities and beyond.
The conference was attended by representatives of LGBT and inclusive churches, and openly gay pastors from the region including Rev Elias Tseng who became the first ordained gay pastor in Taiwan and Malaysian-born, US-based Rev Oyoung Wen Feng.
-
See more at:
http://www.fridae.asia/newsfeatures/2013/06/10/12341.over-300-pastors-and-delegates-meet-at-lgbt-affirmative-christian-conference-in-hong-kong?n=sec#sthash.l2p64GO9.dpuf
Thanks to Sylvia Tan